20 40 duplex house plans south facing as per Vastu
20 40 duplex house plans south facing as per Vastu 3 bedrooms 2 big living hall, kitchen with dining, 2 toilets, etc. 3bhk house plan, 800 sqft house plan.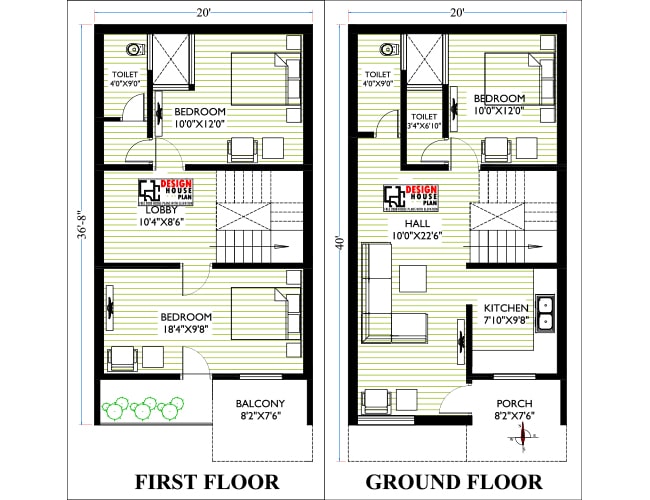 The house plan that we are going to tell you today is made in a plot of length and width of 20×40, which is a total area of ​​800 square feet. This is a modern house plan in which all types of modern facilities are available and with the help of these facilities, you can do all the work of your house easily and very well.
This is a 1 BHK ground floor plan in which an open area has been kept on both the front and backside. In this plan, you will get to see a hall, kitchen, bedroom, and common washroom. Everything in this plan has been designed very well and all the small and big things have been designed keeping in mind. Now let us see this plan in detail, how and where it is made.
20 x 40 south facing duplex House Plans
At the beginning of this plan, on entering from the most main gate, comes the front open area, whose size is 11×5, in this area, you can park your bike and plant some trees and plants. After this, on entering inside the house, comes the living area or lobby area, whose size is 11×11, in this area, you can put a TV, keep a sofa set and if you want, you can also get the interior decoration of this room done so that it The room will start to look even better.
Ongoing beyond this area, comes the Stair Case Hall, where there is a staircase, with the help of which you can go up to the terrace. Then from here onwards comes the kitchen whose size is 11×8, this is a modular kitchen, in which you will get to see all kinds of modern fittings.
20×40 south facing house plans as per Vastu
There are also cabinets for storage in the kitchen, in which you can store your belongings and install a water purifier as well as a chimney can also be installed. A storeroom is also built in this plan, whose size is 6×5, here you can store and keep your goods.
Then after this comes to the common washroom, whose size is 6×7, in which there is an attached late bath. After this comes to the bedroom whose size is 11×11, in this room, you can keep a double bed and also make a good wardrobe and through this room, you can also go to the backyard, whose size is 12×5. You can also do gardening in this area.
Visit Also 20 x 40 duplex house plans west facing
Visit Also 20 40 duplex house plan south facing
Thank you for contacting Design House Plan! Please let us know how we can help you.